Jerry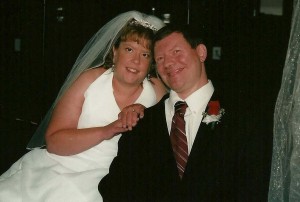 Jerry has been in our Day Program for many years and was one of the first individuals placed in the Supported Employment Program. Jerry began working for The Drummond Company 11 years ago and stayed there for several years. Then, when a job became available on the janitorial crew at The Arc of Walker County, he chose to come here.
Jerry has severe physical disabilities caused by cerebral palsy and has a seizure disorder as well.  Often, at work, he will have a seizure, but he refuses to leave his shift. After he rests for awhile, he adamantly insists that he return to work. He never misses a day of work, is always on time, and he works hard when he is on duty.
Although Jerry cannot drive, he knows how to utilize public transportation and takes care of many of his personal needs. He understands his medication and maintains this regimen himself.
He is a member of People First, an advocacy group for persons with intellectual and developmental disabilities, and is also a member of the Living Light Church of God. He attends church each Sunday. His minister says he arrives to service early to make certain the church is ready, and he also serves as a church usher. Now remember, Jerry has cerebral palsy and it is difficult for him to walk at times; yet he serves as an usher for the church! He also assists in receiving the collection for the church.
When Jerry asked his girlfriend to marry him,  Jerry's support staff at The Arc scurried around, worrying, "Is this a good thing?  Can Mary and Jerry make this marriage work?" All the time, Jerry – in his usual optimistic fashion – assured everyone that he and Mary would be happy.
Jerry proposed to Mary and she agreed to be his wife. Not only did they want to get married, they wanted to get married in the church and then go on a honeymoon! Whew! Again, his Arc supporters scurried around, this time planning a wedding and honeymoon. The wedding was beautiful. Jerry and Mary, along with support staff, went to Tennessee and had a wonderful time. It was a dream come true for this young couple, who look forward to a long life together.